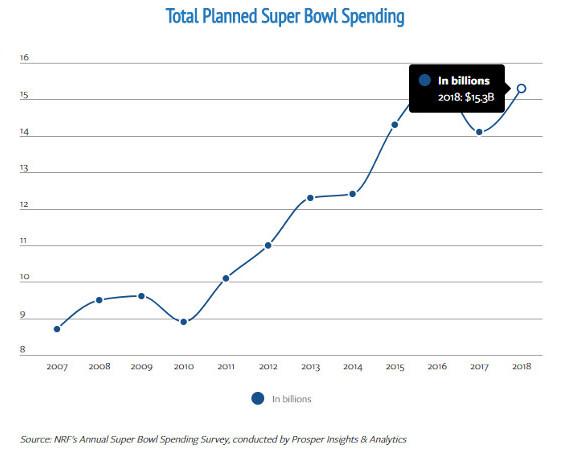 American adults are expected to spend a whopping $15.3 billion on purchases related to 2018 Super Bowl, a significant part of which will be earmarked for new TVs, according to a survey released by the National Retail Federation (NRF) and Prosper Insights & Analytics.
That's just over a billion dollars more than the $14.1 billion spent before last year's Super Bowl and translates into an average outlay of about $81 based on an estimated viewership of 188.5 million.
While most of the money will go toward food and beverages, buying a new TV figures prominently into pre-game spending for 7.5 percent of those who plan to watch the game, which translates into estimated sales of 8.3 million sets.
TVs rank fourth (7.5 percent) behind food and beverages (82.2 percent), team apparel or accessories (10.9 percent), and decorations (8.1 percent). And of those who plan to buy a new TV before the Big Game, most of the buying will be done by those in the 18-44 age group.
"Consumers are carrying strong spending momentum from the holiday season into their Super Bowl festivities," said Phil Rist, Prosper's executive vice president of strategy. "This is evident through increased plans for purchasing while the number of viewers remains steady with last year. Fans aren't afraid to spend a few extra dollars to make this year's game the best one yet."
The survey, conducted January 3-10, asked 7,277 consumers about their Super Bowl plans and has a ±1.1 percent margin of error.
source : soundandvision.com