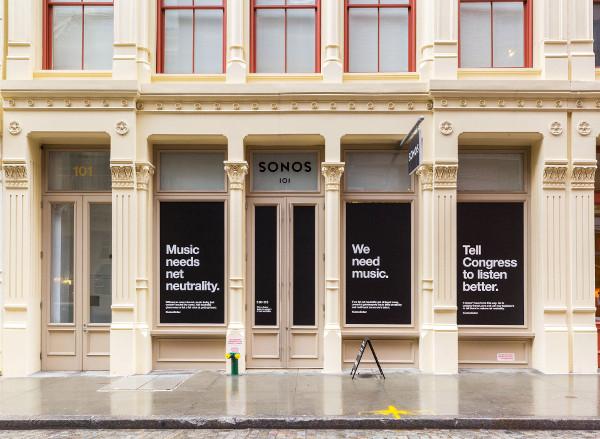 Sonos closed its store in New York City's trendy Soho district yesterday and blacked out its windows to protest the FCC's December ruling lifting "net neutrality" regulations enacted to ensure equal access to the internet. Repeal of the regulations gives internet service providers greater control over the internet "pipe."
The date was selected to coincide with the 60th Annual Grammy Awards ceremony, held yesterday in New York.
The company issued the following statement:
On music's biggest night, Sonos is shedding light on one of the greatest threats to the industry: Net Neutrality.
We love the role the Grammy Awards plays in celebrating artists and music, but imagine a world in which we couldn't choose what we listen to on the Internet? That's why we're shutting our doors at our New York flagship store in Soho on Sunday, January 28, and we'll be closed all day — not just during the awards show (which is back in NYC after a 15 year break).
The Internet has fundamentally changed how we listen to music. Artists can share their music with the world and billions of people can listen. This works because of the principle of Net Neutrality — that information is treated equally over the Internet, without discriminating based on content. Music needs Net Neutrality to flourish and that's why we're closing our doors for the day and encouraging Sonos fans — and all those who walk down Soho's Greene Street on Sunday — to call their congressperson and fight to restore Net Neutrality through our friends at BattleForTheNet.com. We're also taking out a 2-page spread in the Sunday Times that features an evolution of our full page "Freedom of Choice" ad (featured in the tech section of Thursday's paper) next to similar creative that will be seen in the windows of the store on Sunday. Because we're open to all music services and we care about the future of music, our windows will be blacked out in support of an open internet.
Sonos was born to a free and open Internet. We have built our business around it, and thrived as a part of it. That's why we all need to do our bit and Listen Better.
source : soundandvision.com