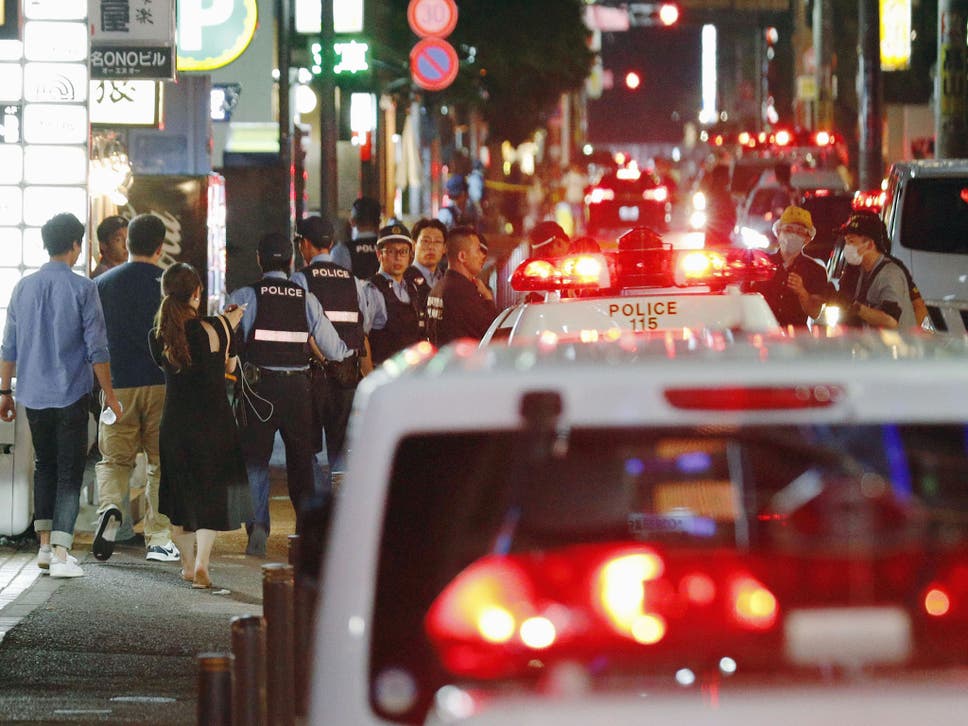 Kenichiro Okamoto was an expert on internet crime and a prolific blogger. He studied the "dark web," a part of the internet that relies on encryption and is often exploited, experts say, for illicit activities and hate-mongering.
On Sunday evening, he held a two-hour seminar for about 30 people in the city of Fukuoka, about 550 miles west of Tokyo, advising other bloggers on engaging their audiences and dealing with internet trolls.
"I have encountered many troubles as I have written my blog for many years," Mr Okamoto wrote on a website introducing the seminar. "Quarrels, pointing out typos, questions about the content, love letters, letters from attorneys, etc."
READ MORE
Father invites trolls to 14-year-old's funeral after she kills herself
The talk ended around 7:45pm About 15 minutes later, he entered a men's room in the building, a former elementary school that now houses a business incubator called Fukuoka Growth Next.
There, Mr Okamoto, 41, was stabbed several times in the neck and the chest, possibly by a man who had reportedly trolled and harassed him online. Mr Okamoto was taken to a hospital, where he was declared dead.
The suspect in the killing fled on a bicycle but turned himself in to the police a few hours later, the Japanese newspaper Asahi Shimbun reported, citing unnamed police officials. Before that, someone – possibly the suspect himself – had posted an anonymous message online saying that the suspect was "now going to surrender himself to take responsibility."
Police have charged Hidemitsu Matsumoto, a 42-year-old man, in connection with the killing. "I thought I would kill him," the newspaper quotes Mr Matsumoto as telling the police.
The two men had not met in person, it appears, but Mr Matsumoto had harassed Mr Okamoto in online messages and "held a grudge" against Mr Okamoto, according to the newspaper.
World news in pictures
8 September 2018
7 September 2018
6 September 2018
5 September 2018
50
show all
Mr Okamoto's blog embedded online comments from other websites and added short commentary on a variety of subjects. He had made more than 26,000 posts that reached 1,060 followers.
The Must-Play Award-Winning City Game
Forge of Empires - Free Online Game
Amazing Flight Deals on New Flights Ticket Site
FlightFinder
Top 10 Safest Countries For Tourists And Travel
Bored Articles
by Taboola Sponsored Links
Recently, he wrote on his blog about being harassed by an internet troll he called "Mr. Low IQ".
The troll, Mr Okamoto wrote in a 2 May blog post, slandered him in online posts, and once harassed him seven times in a single day.
Okamoto did not name the troll, but provided a list of close to 270 user names he said the troll had used and whose accounts Hatena, a popular blogging service in Japan, had suspended at his request.
"As soon as I receive a call from Mr. Low IQ, I report it to Hatena," Mr Okamoto wrote. "Initially, I used to write scrupulously: 'This person heaps abuse on other users, including myself,' as the reason, but these days I simply write: 'This is by Mr. Low IQ' and send it, and the account associated with it gets frozen."
Mr Okamoto continued, "It's not a problem for people who are used to abusive language, like me, but a great many people would feel frightened when they receive invectives out of the blue."
Police were not immediately able to confirm that the troll in question was Mr Matsumoto, but several online commentators say they believe he was the troll who had been bothering Mr Okamoto.
The killing highlighted the chilling possibility of digital threats spilling over into real life, in an era when internet users are increasingly concerned about the proliferation of misinformation, hate speech and even incitement to violence.
READ MORE
Online harassment victim feels 'hopeless' over police inaction
Shooting survivor begs Melania Trump: Stop Donald Jr bullying me
School cyberbullies 'more likely to be suicidal'
Anti-trolling website launched to help victims
"The digital world is anonymous, and therefore it is easy for threats to get escalated there," Yoh Mikami, a journalist who covers information technology, told Nishinihon Shimbun, a local newspaper. "Hatred towards people you wouldn't meet in the real world heightens."
The problem of internet trolling online has been growing in Japan, as elsewhere. The country's National Police Agency said in March that the number of reports of online libel and slander had increased to 11,136 in 2016 from 9,425 in 2013.
Japan has a relatively low homicide rate. A report from the United Nations Office on Drugs and Crime from 2013 said the rate was one of the world's lowest, noting the country's low levels of gun ownership, effective policing, low inequality and high level of development.
That said, homicides have recently been in the news. Earlier this month, a man attacked passengers with a knife on a Shinkansen high-speed train, killing one person, and a 21-year-old man fatally stabbed a police officer and shot a school security guard with a gun he had stolen from the officer.
Mr Okamoto worked at Sprout, a company in Tokyo that provides cybersecurity consulting to companies and government agencies and conducts research on the dark web.
"Losing Mr Okamoto has been a matter of deep regret for the company," Seigen Takano, the chief executive of Sprout, wrote on its website. "It can't help but be said that we've lost a person who was valuable for the future of the cybersecurity industry."
source : independent.co.uk