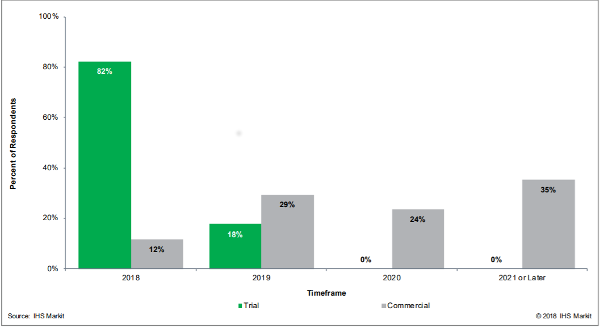 If you like the speed of 4G mobile networks, you're going to love the next-generation 5G platform, which promises data speeds 20 times faster than 4G LTE and faster than the fastest home broadband networks.
A recent 5G study conducted by U.K.-based IHS Markit found that 82% of mobile operators are busy trialing and testing the technology. Most of the activity is in North America and Asia, with 12 percent of North American mobile operators planning to roll out 5G in their networks by the end of the year.
"Get ready, 5G is around the corner," said Stéphane Téral, IHS's executive research director, mobile infrastructure and carrier economics. "5G is going live in North America by the end of 2018, and then in South Korea in 2019."
The operators cited ultra-low latency as the chief technical driver for 5G (82%), followed by decreased cost per bit (76 percent) and increased network capacity (71 percent).
"Every technical aspect that's related to substantial improvement in network performance — lower latency, higher capacity, higher bandwidth, higher throughput — while decreasing the cost per bit continues to receive high ratings in our survey," Téral said. "This is logical because it's the foundation of 5G."
Radio was cited as the most challenging aspect of implementing 5G, according to the study. Just over half of the mobile operators polled said radio is the area that will require the biggest development effort to make 5G happen, followed by transport (24%) and management (14%).
How will 5G be used? Survey respondents cited "extreme mobile broadband" (eMBB) as the highest-rated 5G use case, which would include HD and 4K/UltraHD video services, followed by real-time gaming, which requires a super-fast network with low latency. The mobile operator respondents also said they expect fixed-wireless access (FWA) to be ready for commercial deployment first.
"The bottom line is early 5G will be an extension of what we know best: broadband, whether in FWA or eMBB form," Téral said. "Don't expect factory automation, tactile low-latency touch and steer, or autonomous driving to be ready on 5G anytime soon despite being touted as the chief 5G use cases."
source : soundandvision.com