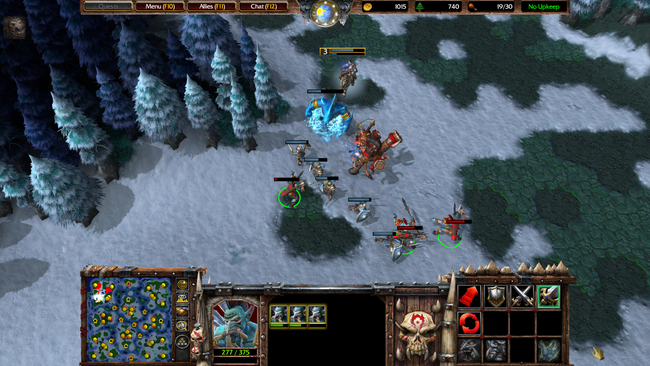 Warcraft 3: Reforged spins a yarn about a host of competing factions fighting over the course of several campaigns, and then again, endlessly, in multiplayer battles and skirmishes. There's also another conflict: the one between 2002 and 2020. There's the classic RTS, its elaborate faction design, memorable campaigns and clever RPG flourishes, and then there's the 'Reforged' part. It's an attempt to bring the game into the modern age, but one that feels half-hearted. This is not the remaster that Warcraft 3 deserves.
Blizzard hasn't done a great job of communicating what Warcraft 3: Reforged actually is. Initially, it sat somewhere between remaster and full-on remake. Not only was Blizzard going to add heaps of new art and modern graphics wizardry, it was going to go over the campaigns again, improving them, tinkering with the pace and even bringing the lore and story in line with World of Warcraft. There were going to be new cutscenes, a new UI and more. With the exception of the graphics improvements, Blizzard has walked most of these changes back.
For the purists, this might be good news. It's still the Warcraft 3 you remember, but it looks a bit nicer. Impressively, two decades hasn't dulled it at all. It helps that real-time strategy hasn't made many leaps since 2002. While it features most of the traditional elements of the genre, like base building, resource gathering and maps shrouded in a fog of war, it's really driven by its heroes. These super-charged units are fancy specialists with powerful abilities that can be upgraded as they level up and then be augmented with items purchased in shops or dropped by enemies. They're RPG characters, essentially, around which you build a small army.