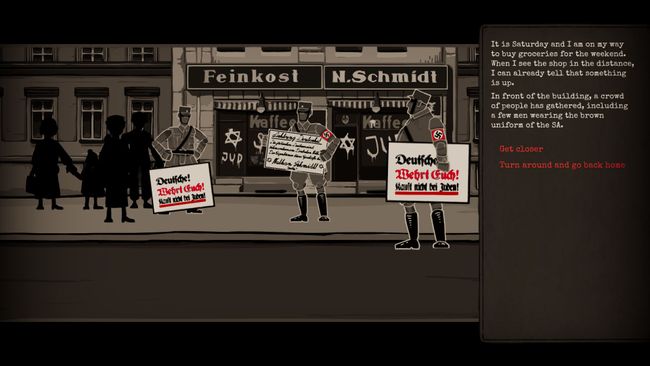 No matter how intelligent or empathetic you are, it's incredibly difficult—arguably impossible—to truly comprehend the enormity of the atrocities of Nazi Germany. Games usually seek to loosen your grip on the concept further, by saying little more than "go shoot every German you find in the face". This pigeonhole-defying game, while still failing to communicate the scale, opens your eyes wider in a very impressive way. It is, really, more an emotional journey than anything else.
You and your small band of resistance members are German citizens; names, attributes, and appearances randomly generated. The story begins with Hindenburg appointing Hitler Chancellor in 1933, and runs right through until the aftermath of the war in 1946. The story is firmly grounded in reality, so there's no chance of preventing WWII or having any effect at all on historical events. It's all about doing what little you can for the persecuted, trying to spread the truth of what the Nazis are doing… and looking on helplessly as huge amounts of the populace cheer Hitler on.
Each turn represents a week, and you need to decide which tasks to assign to each of your members. Success in each is determined, in part, by the total value of the relevant attributes offered by the characters you assign (e.g. Secrecy, Strength, Propaganda). Things aren't nearly as simple as that though, and not only because bringing certain items along can make things slightly easier or harder.
(Image credit: HandyGames)
At the beginning of each week, I'm presented with three newspaper headlines. The news is historically accurate, and ordinarily details successes of some kind for the Nazi regime. My group's morale is reduced accordingly before I've even done anything, and I know that I'm almost certainly due for a little more morale reduction at the end of the turn unless I get some wins for the group.