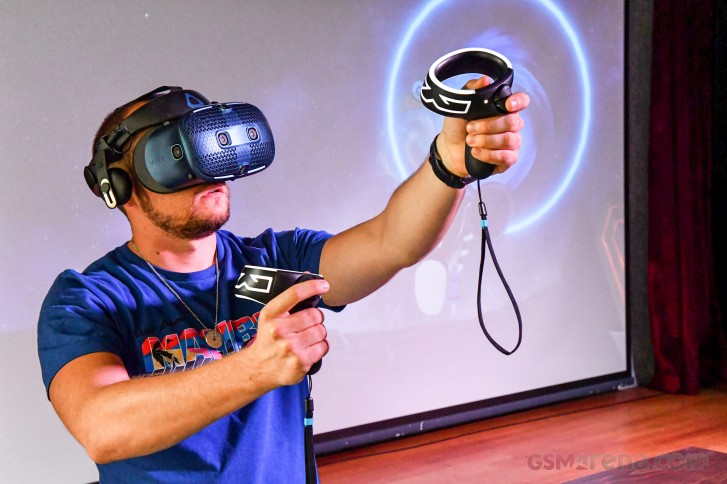 The HTC Vive Cosmos was released a month ago but it only now enters the European market and we had the chance to play around with it.
HTC Vive Cosmos hands-on
The Vive Cosmos is a direct successor to the original Vive and aims to be the flagship device for the company. It's a significant upgrade over its predecessor - in terms of design and hardware. And it's different from the HTC Vive Eye introduced a few months ago.
Specs
Let's start with the specs. The Cosmos features an impressive 1440 x 1700px resolution per screen with a combined resolution of 2800 x 1700px making it the VR headset with the highest resolution for commercial use. Each screen is 3.4" in diagonal and uses RGB displays that should limit the screen-door effect.
It uses red, green and blue LEDs for the backlight as opposed to the white-only LEDs in conventional LCD panels. This also improves color accuracy, contrast and brightness despite that they are costlier and harder to manufacture.
The screens also refresh at 90Hz for smooth gameplay, but that means you'd need a lot of horsepower to power up all those pixels at 90 frames per second. Of course, it depends on the game and HTC says it will run on rather old PCs if you stick to less demanding titles or quality settings.
HTC Vive Cosmos hands-on
For tracking, the Vive Cosmos now uses internal tracking meaning the external pylons are no longer needed. Much like most Microsoft mixed reality headsets, the Vive Cosmos relies on cameras responsible for the tracking of the environment and the controllers.
The Cosmos comes with six cameras aided by the usual G-sensor and gyroscope. The controllers are LED-illuminated to help the headset with the tracking in dark environments. The controllers have their built-in sensors too - gyro and G as well as hall and touch. All is powered by two AA batteries per controller.
Ergonomics and design
HTC is really proud of its revised design over the original Vive and with good reason. Sure, the headset is a bit heavy but that was to be expected since it has internal tracking. It has a flip visor so you can step in and out of the virtual world on the fly and more importantly, it feels quite spacious in there. Users with glasses will be pleased to learn that HTC has taken this into account while designing it.
HTC Vive Cosmos HTC Vive Cosmos HTC Vive Cosmos HTC Vive Cosmos
HTC Vive Cosmos
Moreover, the front end of the band is now slightly inclined so it rests on your forehead instead of strapping it around your head. This greatly reduces fatigue when wearing it for hours straight as we managed to confirm. This with this design, you don't feel the weight of the headset as much.