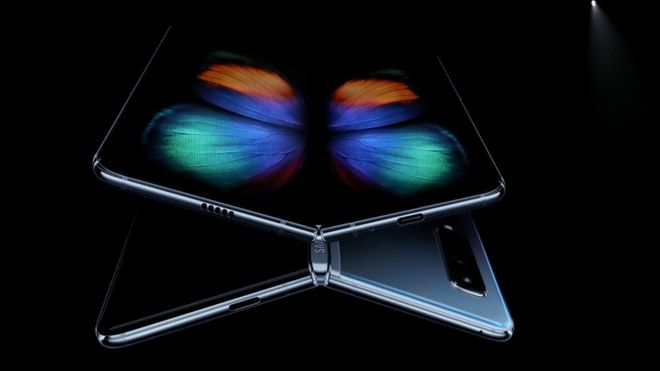 Samsung's first foldable phone will go on sale on Friday after problems delayed its initial release.
The Galaxy Fold will be available on 6 September in South Korea, with a UK launch following on 18 September.
The release of the nearly $1,980 (£1,600) device in April was postponed after early reviewers reported broken screens.
Samsung has been rushing to launch the folding smartphone before its rivals.
The firm said in July it had made "improvements" to the device and planned for the phone to go on sale in September.
It will cost £1,900 when it goes on sale in the UK on 18 September.
According to news site the Verge, changes to the device include:
reducing the gap between the hinge and the display to prevent debris entering the mechanism
hiding the edges of the screen-protective layer under the bezels of the device, to stop users peeling the laminated protection off
adding plastic caps to the edges of the folding display to stop debris getting in
Skip Twitter post by @benwood
Ben Wood
✔
@benwood
A closer look at tweaks @SamsungMobile has made to #GalaxyFold. Gaps around external face of hinge almost invisible, plastic covers protecting hinge at top & bottom of screen and "screen film" tapered to edge of device. Gap when closed also slightly narrower.
View image on TwitterView image on TwitterView image on TwitterView image on Twitter
30
9:53 PM - Sep 5, 2019 · Berlin, Germany
Twitter Ads info and privacy
15 people are talking about this
Report
End of Twitter post by @benwood
It comes as the firm has seen profits tumble amid a broader industry slowdown, weighed down by the US-China trade war.
Media captionWATCH: Hands-on with the Samsung Galaxy Fold
Samsung, the world's biggest smartphone and memory chip maker, is facing growing competition from rivals like Chinese tech firm Huawei.
It is also navigating possible disruption to its chip business from a trade row between South Korea and Japan..
Huawei became the second-largest smartphone seller in the world last year and plans to launch its folding smartphone in September..
Earlier this year, Chinese technology firm Xiaomi unveiled a prototype of a folding smartphone that transforms into a tablet..
The Galaxy Fold is being released in a small number of countries including South Korea, the US, the UK and Singapore.