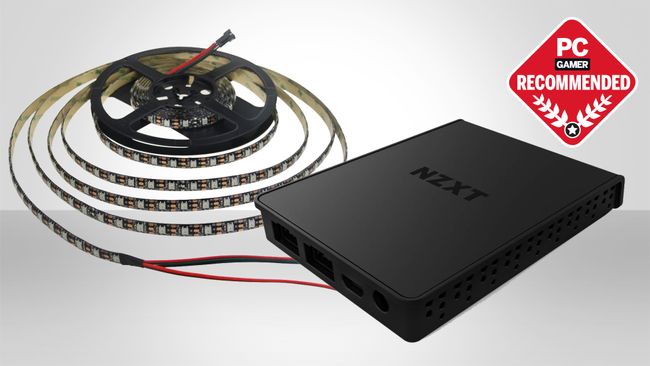 Setting up one of the best RGB lighting kits on your gaming PC is like putting a cherry on top of your ice cream sundae. It's just for show, but it makes your PC look amazing. Syncing up the lighting in your PC, mouse, and keyboard is great… But what about your gaming monitor? And the edges of your PC case? And your desk? There are so many more things that could glow. You don't need it but, hard as you may resist, you want it.
In case you've never considered it, RGB lighting kits give you the ability to add RGB light strips, similar to the lights in PC parts and peripherals, which you can stick to other parts of your battle-station. In order to control the lights, you need to purchase a starter kit with a controller hub or remote and, in some cases, a separate power supply to handle the additional output. That means that the setup can get a little complicated—remember, this is functionally a PC upgrade—and the costs can stack up. (The starter kit for our favorite lighting system, the NZXT Hue 2, costs more than $80).
No one said that living the PC gaming high life would be cheap or easy. Only that you'd look good when it's set up. If that sounds like something you're interested in, take look at our recommendation and see what kit would work best with your rig.
Image 1 of 4
(Image credit: NZXT)
(Image credit: NZXT)
(Image credit: NZXT)
(Image credit: NZXT)
1. NZXT HUE 2
The best RGB lighting kit for gaming PCs
RGB Type: Addressable | Control Method: CAM Software | Included LEDs: 40 | Expandable: Yes | Mounting: Magnets and screws
US$69.99
VIEW AT AMAZON
US$92.25
View at Amazon
LOW STOCK
€24.95
View at Komplett.ie
See all prices (29 found)
?
40 addressable RGB LEDs out of the boxExpandable with additional accessoriesEasy to use software controlsVery expensive
When it comes to lighting, NZXT has never been one to shy away from offering it wherever possible. The company's earliest cases offered accent lighting well before it was popular so it really comes as no surprise that the company is leading the charge into case lighting with its various HUE products. The HUE+ was our former top choice for this guide and it has been appropriately dethroned by the newly released HUE 2.
The HUE 2 ecosystem is comprised of the main HUE 2 RGB lighting unit, the HUE 2 Ambient, HUE 2 Underglow, HUE 2 LED strips, HUE 2 Cable Comb and several other yet-to-be announced products. Like its predecessor, the HUE 2 RGB lighting unit featured here is more than enough to start your RGB case party.
The HUE 2 kit comes with ten individually addressable LEDs on each of its four strips. With a total of 40 LEDs and multiple extension cords included, the kit is capable of lighting up a wide range of build sizes out of the box. If you have a larger case or want even more RGB lighting, the main lighting unit allows you to expand things even further.
An upgrade from its predecessor, the HUE 2 now has four individual channels (up from two) that support up to 40 LEDs or six HUE 2 accessories each. This allows you to create virtually endless combinations of lighting configurations and settings across dozens of HUE 2 RGB products. And it's all easily controlled via the company's CAM software. Considering the $60 price tag of the HUE+ and the low cost of entire reels of addressable LED strips, the $75 price tag on the HUE 2 may sound a bit steep. But the easy expandability and simplicity of CAM makes it more than worthwhile. Pair the HUE 2 kit with the HUE 2 Ambient, Cable Comb or Underglow accessories and you'll have yourself one unforgettable smorgasbord of RGB.
Image 1 of 3
(Image credit: Alitove)
(Image credit: Alitove)
(Image credit: Alitove)
2. Alitove WS2812B
The best DIY RGB lighting system
RGB Type: Addressable | Control Method: Digital Remote | Included LEDs: 300 | Expandable: Yes | Mounting: Double-sided tape
US$34.99
VIEW AT AMAZON
US$35.99
View at Amazon
€18.32
View at Amazon
See all prices (26 found)
?
Offers much higher LED densityAdvanced programming optionsCheapest addressable LED solutionSetup can be complicated
There are countless variations of addressable RGB LED strips on the market today, but we found the Alitove WS2812B strips to be the most cost effective and versatile when it comes to lighting up a PC. Each 16.4ft spool comes with a whopping 300 LEDs that can be cut down to fit any sized PC. However, in addition to the LED strip you'll have to purchase a separate controller and power supply.
Cutting the LED strip to wrap around the interior of the S340, we used less than half of the spool but still ended up with more than double the included LEDs in the HUE 2. With 85 total LEDs, our DIY solution was far brighter with smoother color effects than any of the other kits we've tested.
Several pre-programmed controllers are available that work just like some of the other kits we've tested here but with literally hundreds of patterns and lighting combinations. More advanced users can use Arduino boards or a Raspberry Pi to program their own lighting effects. For our DIY setup we decided to go with the simple route and used a remote controlled mini controller.
After we attached the LEDs to the case, we connected the mini controller using the included JST connector at the end of the strip. While a 5V molex adapter may work for some situations, you might need to power the controller and strip with an external power supply with a current of 3A or higher.
With well over 100 unique lighting modes and the ability to adjust speed and brightness, we found the pre-programmed solution to be more than sufficient. You'll have to do without the smart lighting modes found in the HUE 2 but advanced users can replicate those modes and more with custom controllers and programming. The DIY route definitely isn't for everyone, but if you're willing to put in a bit of effort it can be very rewarding and cost effective.
Image 1 of 4
(Image credit: Deepcool)
(Image credit: Deepcool)
(Image credit: Deepcool)
(Image credit: Deepcool)
3. Deepcool RGB350
The best basic RGB lighting system
RGB Type: Non-addressable | Control Method: Wireless remote | Included LEDs: 36 | Expandable: Yes | Mounting: Magnets
US$19.99
VIEW AT AMAZON
US$36.98
View at Amazon
€17.90
View at Amazon
See all prices (10 found)
?
36 total bright LEDsRemote controlled RGB lightingVery affordableLEDs are not addressable
Whether you're looking for a single color LED strip or a RGB solution to light up your build, we highly recommend the DeepCool RGB350 LED Kit. Priced under $20, it's only a few dollars higher than most single color LED kits but offers so much more.
With two included LED strips each measuring twelve inches, the RGB350 is capable of lighting up most small to medium sized builds. We used the mid-sized NZXT S340 for our testing and the build was easily lit up with just one strip on the top and one strip on the bottom. Installation was foolproof thanks to magnets built into the LED strips and an included extension cord.
The kit uses a wireless RGB controller that allows you to control the LED strips using an included remote control. All we had to do was connect the molex adapter to our power supply, chain the LED strips together and plug them into the RGB controller, and we were up and running in minutes.
While the LED strips are technically RGB, it's important to note that the LEDs are not addressable in a basic kit like this. This means data can only be transmitted to the entire strip at once rather than each individual LED on the strip. Therefore, every LED on the strip will be the same color at the same time.
The only things you'll be able to control with the DeepCool RGB350 are the brightness, color and various flashing patterns. If you want a single color, you'll be able to choose from 15 total colors on the remote. If you want multiple colors, you can cycle through the three basic red green and blue colors or a seven color rainbow with "breathing" or "skipping" effects in between each color change. The DeepCool RGB350 might not be advanced as the RGB mechanical keyboards on the market these days, but it surely gets the job done if you're looking to light up your build on a budget.
Best CPU for gaming | Best graphics card | Best gaming motherboards
Best SSD for gaming | Best DDR4 RAM | Best PC cases
Some online stores give us a small cut if you buy something through one of our links. Read our affiliate policy for more info.
Round up of today's best deals
?
PC Gamer
NZXT Hue 2
PC Gamer
US$69.99
VIEW
See all prices
PC Gamer
Alitove WS2812B
PC Gamer
US$34.99
VIEW
See all prices
PC Gamer
DeepCool RGB350
PC Gamer
US$19.99
VIEW
See all prices
We check over 130 million products every day for the best prices
VIEW ALL DEALS
POWERED BY
PC Gamer
MORE ABOUT...
Trying to make a buck in gangster sim Empire of Sin
Extreme gaming PC build 2019
SEE MORE RELATED
LATEST
Where to find all the Action Figures in GTA Online
SEE MORE LATEST
SEE COMMENTS
How Blizzard coped with World of Warcraft's blood plague and other early disasters
If you stepped into the dwarven capital of Ironforge on September 13, 2005, you would find only bones. Lots of bones. The city, along with every other major population center in World of Warcraft, had been ravaged by a plague that slaughtered players by the thousands, their bleached bones covering e
PC Gamer
The Most Addictive Game of the Year 2019
Forge of Empires - Free Online Game
|
Sponsored
Here's eleven minutes of Skywind, the mod porting Morrowind to Skyrim
After Skyblivion's new cinematic trailer, it seems Skywind won't be outdone.
PC Gamer
A Browser that's 200% Faster than Chrome
browserguides.org
|
Sponsored
This new mine-laying Star Citizen spaceship costs over $600 (updated)
The thing about writing anything about Star Citizen on the internet is that it always makes everyone extremely mad. So here we go: Star Citizen developer Roberts Space Industries has a new ship out for select backers. It lays mines and has a serial number and it costs $675.It's called the Aegis Naut
PC Gamer
COMMENTS
How the internet has reacted to World of Warcraft Classic
PC Gamer
World of Warcraft game director responds to Classic queue complaints
PC Gamer
The Most Unforgettable Oscars Outfits Of All Time
L&C Magazine
|
Sponsored
New Wifi Booster Stops Expensive Internet In Mongolia
Money News Tips
|
Sponsored
Night in the Woods developer Alec Holowka has died
PC Gamer
Is WoW Classic just a quick nostalgia fix, or is it here to stay?
PC Gamer
This game will keep you up all night
Mars Battle (Strategy Game)
|
Sponsored
Instant Language Translator Device Taking Mongolia By Storm
Money News Tips
|
Sponsored
Blatant Warcraft ripoff goes offline after Blizzard files a lawsuit
PC Gamer
Knights of Honor 2 is set to be a more accessible grand strategy game
PC Gamer
Why Everybody in Mongolia is Snapping Up These New Earphones?
AirPhones
|
Sponsored
People In Mongolia Can't Believe How Fast Their Wifi Is With This Booster
WiFi SuperBooster
|
Sponsored
Dell's G3 gaming laptop with a GTX 1660 Ti is down to $850
PC Gamer
GeForce RTX 2070 vs GTX 1080: Which graphics card should you buy?
PC Gamer
Top 10 Most Dangerous Countries To Visit
WomenArticle.com
|
Sponsored
Flight Prices from Asgat to New York May Actually Suprise You
Cheap Flights | Search Ads
|
Sponsored
Minecraft Java update adds bees, honey farming, harmony, hope
PC Gamer
Asus is releasing a 43-inch HDR gaming monitor priced at around $1,000
PC Gamer
Everyone In Mongolia Is Going Crazy Over This Cheap WiFi Booster
iBooster
|
Sponsored
Dubai Investment Properties Might Actually Surprise You
Property Investment | Search Ads
|
Sponsored
Noita, the game that simulates every pixel's physics, hits Early Access this September
PC Gamer
The best WoW Classic professions to make quick cash
PC Gamer
Renting a Yacht in Dubai Might be More Affordable Than You Think
Yacht Rentals | Search Ads
|
Sponsored
30 Magical Fruits that Burn Fat Like Crazy
Food World Magazine
|
Sponsored
Borderlands 3's 2019 roadmap vaguely revealed
PC Gamer
Cyberpunk 2077 video shows off 15 minutes of gameplay
PC Gamer
High speed Wi-Fi booster takes Mongolia by storm
iBooster
|
Sponsored
12 Cholesterol-Lowering Foods to Add to Your Diet Today
Food Eat Safe
|
Sponsored
MOST POPULAR
Red Dead Redemption 2 on PC: everything we know
By Samuel RobertsSeptember 04, 2019
READ MORE
Here's every game included in the Xbox PC Game Pass
By Morgan ParkSeptember 04, 2019
READ MORE
TOPICS
HARDWARE
LED LIGHTING
RGB
LOAD COMMENTS
Advertisement
RECOMMENDED
There's officially a new and faster USB standard, now we wait for actual devices
The PC Gamer Top 100
PC GAMER NEWSLETTER
Sign up to get the best content of the week, and great gaming deals, as picked by the editors.
No spam, we promise. You can unsubscribe at any time and we'll never share your details without your permission.
Advertisement
HARDWARE BUYING GUIDES
LATEST GAME REVIEWS
1
Best gaming laptop for 2019
2
The best RAM for gaming in 2019
3
The best Razer laptop for gaming 2019
4
The best USB Wi-Fi adapter 2019
5
The best RGB lighting kit
Advertisement
PC Gamer is part of Future US Inc, an international media group and leading digital publisher. Visit our corporate site.
About Us
Terms and conditions
Privacy policy
Cookies policy
Advertise with us
© Future US, Inc. 11 West 42nd Street, 15th Floor, New York, NY 10036.
CLOSEX