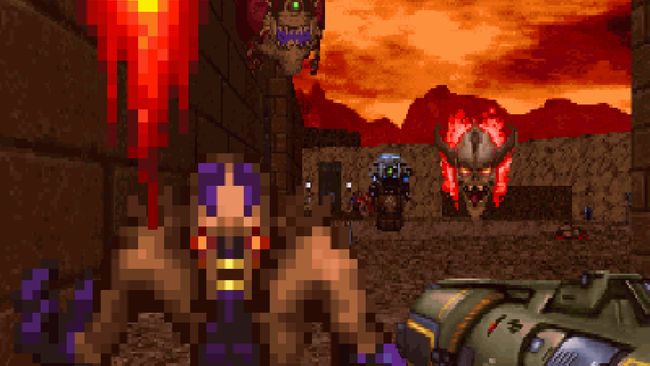 What would Doom (2016) look like if it came out twenty-three years ago? And just how old would that make you feel to see it in action? Doom 4 Vanilla, released yesterday, is an impressive 'demake' mod for Doom 2 that boils down everything it can from Id Software's series reboot while adhering to the limits of Doom circa 1993. That means new monsters, guns, music, art and levels. It's an impressive package.
The vast majority of modern mods for 'classic' Doom are based on heavily upgraded open-source versions of the game engine. Levels can be larger, monster AI can be more complex and effects can be vastly more detailed and messy. Case in point: Brutal Doom.
Doom 4 Vanilla uses none those modern fripperies. That fancy new Spider Mastermind with telekinesis, homing missiles and spread shots is entirely DOS compatible. Those new blood effects? Pushing the original Doom engine to its limits. The mod even goes as far as including a MIDI cover of Doom 2016's fantastic soundtrack. Take a look and listen for yourself in the trailer below.
While assembled by modder "Noiser" on the Doomworld forums, Doom 4 Vanilla uses sprites, textures and audio from over twenty other contributors, and you can see the full credits on the release thread here.
Being a pointedly old-school mod, there's some assembly required to play Doom 4 Vanilla, but Noiser has done most of the heavy lifting for you. All you need is a commercial copy of Doom 2, downloaded and ready to go.
Download the mod from Doomworld, unpack it wherever you want and place your DOOM2.WAD file in the same directory.
While the currently available version uses the pointedly old-school (but still Windows-based) Chocolate Doom engine, an authentic MS-DOS Edition of the mod is in the works. Still, if you don't mind fiddling around with emulators like DOSBox (or have a 486 PC lying around) you could probably get it running with a little effort.
But it'll probably make you feel old.
Join Us!
Get our digital RPG handbook when you join our membership program. More at club.pcgamer.com
MORE ABOUT...
The PC Gamer Top 100
There's a new teaser for that Doom movie they're making
SEE MORE RELATED
LATEST
Edmund McMillen's The Legend of Bum-bo has a firm release date
SEE MORE LATEST
SEE COMMENTS
Ultrakill looks like a PSX game and moves like turbo Doom Eternal in this free demo
Mankind's greatest and final mistake, according to Ultrakill, was building robots literally powered by blood. Now humanity is extinct and the red stuff is running out, so the machines are plundering hell itself for more of that sweet, sweet murder-juice.With that concept and with a big free demo, wh
PC Gamer
The Most Addictive Game of the Year 2019
Forge of Empires - Free Online Game
|
Sponsored
John Carmack wishes Rage had been released earlier
John Carmack, wearing a t-shirt that reads "I don't get older, I level up," was recently interviewed on an episode of the Joe Rogan Experience. The co-founder of id Software and CTO of Oculus discussed—among other things—the release of Rage, one of id's less well-received games. Rage picked up sever
PC Gamer
A Browser that's 200% Faster than Chrome
browserguides.org
|
Sponsored
Disintegration: Everything we know about the new sci-fi shooter
Back in July, Private Division and V1 Interactive announced Disintegration, a melding of FPS and RTS in a post-apocalyptic sci-fi battleground. If that sounds weird to you, you'd be correct. Genre labels don't tell the whole story on this one. It's definitely not the fast-paced action of Call of Dut
PC Gamer
COMMENTS
Romero returns to Doom to play tricks in Sigil
PC Gamer
Ambitious Portal 2 mod Destroyed Aperture is still alive despite long silence
PC Gamer
Instant Language Translator Device Taking Mongolia By Storm
Money News Tips
|
Sponsored
The Most Unforgettable Oscars Outfits Of All Time
L&C Magazine
|
Sponsored
Planetside Arena enters Early Access in September with 300-player battles
PC Gamer
Take a whirlwind tour through Half-Life 2 in this abridged map jam
PC Gamer
New Wifi Booster Stops Expensive Internet In Mongolia
Money News Tips
|
Sponsored
Play this Game for 1 Minute and see why everyone is addicted
panzerrush.com
|
Sponsored
Doom 64 rating appears on Australia's Classification Board website
PC Gamer
One of Logitech's best mice is more than half off at Best Buy
PC Gamer
The Cheapest Travel Destinations In the World
Purpletion
|
Sponsored
Dubai Investment Properties Might Actually Surprise You
Property Investment | Search Ads
|
Sponsored
John Romero's great-grandmother is an underworld boss in Empire of Sin
PC Gamer
Hunt: Showdown has officially launched out of Early Access
PC Gamer
Why Everybody in Mongolia is Snapping Up These New Earphones?
AirPhones
|
Sponsored
Everyone in Mongolia is going crazy over this cheap WiFi booster
iBooster
|
Sponsored
PC Gamer UK October issue: Humankind
PC Gamer
Here's 15 minutes of spoiler-rich Gears 5 campaign footage
PC Gamer
Renting a Yacht in Dubai Might be More Affordable Than You Think
Yacht Rentals | Search Ads
|
Sponsored
If You Live In Mongolia & Want Faster Wifi, This New Device Is Must-Have
WiFi SuperBooster
|
Sponsored
This forthcoming retro FPS is a throwback to the Nintendo 64 era
PC Gamer
The PC Gamer Top 100
PC Gamer
The inside of this home made out of sea containers is amazing
Tips and Tricks
|
Sponsored
Learn about how to solve your Wifi Problems
iBooster
|
Sponsored
This new mine-laying Star Citizen spaceship costs over $600 (updated)
PC Gamer
How Blizzard coped with World of Warcraft's blood plague and other early disasters
PC Gamer
Top 10 Most Dangerous Countries To Visit
WomenArticle.com
|
Sponsored
12 Foods That Lower Cholesterol Naturally
Food Eat Safe
|
Sponsored
MOST POPULAR
This mod turns Doom into a delightful Mario 64-inspired platformer
By Wes FenlonAugust 13, 2019
READ MORE
Tim Willits is leaving id Software
By Andy ChalkJuly 18, 2019
READ MORE
TOPICS
FPS
ID SOFTWARE
NOISER
MODS
DOOM
DOOM 2
LOAD COMMENTS
Advertisement
RECOMMENDED
The PC Gamer Top 100
Blatant Warcraft ripoff goes offline after Blizzard files a lawsuit
PC GAMER NEWSLETTER
Sign up to get the best content of the week, and great gaming deals, as picked by the editors.
No spam, we promise. You can unsubscribe at any time and we'll never share your details without your permission.
Advertisement
HARDWARE BUYING GUIDES
LATEST GAME REVIEWS
1
The best Razer laptop for gaming 2019
2
The best USB Wi-Fi adapter 2019
3
The best RGB lighting kit
4
The best SSD for gaming 2019
5
Best gaming laptop for 2019
Advertisement
Doom deals
?
PC Gamer
PC Gamer
US$6.09
VIEW
PC Gamer
PC Gamer
US$12.82
VIEW
REDUCED PRICE
PC Gamer
PC Gamer
US$29.99
US$19.94
VIEW
PC Gamer
PC Gamer
US$39.99
VIEW
SHOW MORE DEALS
We check over 130 million products every day for the best prices
POWERED BY
PC Gamer
PC Gamer is part of Future US Inc, an international media group and leading digital publisher. Visit our corporate site.
About Us
Terms and conditions
Privacy policy
Cookies policy
Advertise with us
© Future US, Inc. 11 West 42nd Street, 15th Floor, New York, NY 10036.
CLOSEX