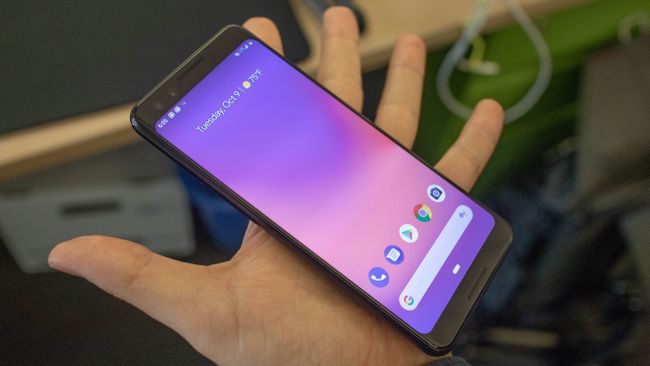 The Google Pixel 3 landed on October 18, 2018 in the US, and November 1, 2018 in the UK and Australia, and also subsequently came out in Canada, France, Germany, Japan, India, Ireland, Italy, Singapore, Spain, and Taiwan. The first pre-orders began right after the October 9 launch event.
The Pixel 3 price is $799 (£739, AU$1,199) for the 64GB version, and $899 (£839, AU$1,349) for the 128GB version. We recommend more internal storage since you can't upgrade later (remember, there's no microSD card slot on this phone).
It's a price hike from the Google Pixel 2 (by $150), yet cheaper than an iPhone XS (by $200). You're paying for the more expansive screen and machine-learning camera, and the fact that almost all flagship smartphones cost more in 2019.
However, some third-party stores have now knocked a little bit off the price - you can often find the Pixel 3 for around $50/£50 less than the RRP.
Here's every device Google launched at its Made By Google event
Design
The Pixel 3 retains Google's familiar two-tone design – the back has shiny glass at the top, while lower 80% has a matte finish. There's a more seamless transition between the two textures for a higher-quality look and feel, but overall its look hasn't changed dramatically.
Advertisement
It easily fits in one hand, and, for the most part, you can operate it without resorting to using two hands. That's the best reason to choose the Pixel 3 over the Pixel 3 XL. It's screen size is big enough, yet the phone handfeel is rather manageable. Others will appreciate the fact that it doesn't have an ugly notch cut out at the top, a design choice deal breaker for many. Due to its late 2018 launch, the Pixel 3 also avoids the 'punch hole' camera design choice seen in the Honor View 20. It's trend that's sweeping 2019 smartphones, including the Samsung Galaxy S10.
The Pixel 3 series looks similar to its predecessor, but it does in fact use different materials. The entire back is made of soft-touch glass using Corning Gorilla Glass 5. It's the same strengthened glass that protects the front screen, and it's all sandwiching an aluminum frame that has a hybrid coating – that's the only bit of metal you'll find on the outside.
https://www.techradar.com