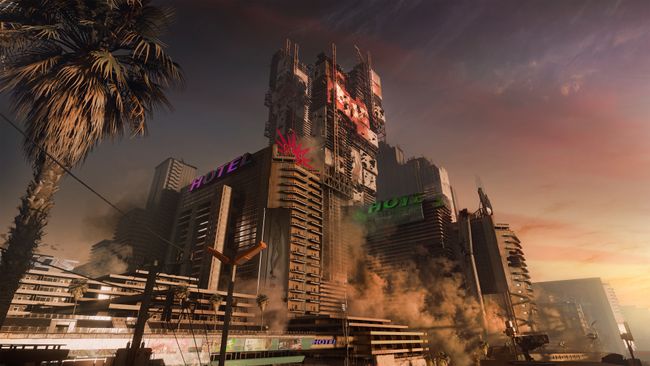 Cyberpunk 2077 was announced way back in 2012, and the past seven years of news paint CD Projekt's sci-fi RPG as a behemoth of a game, even bigger than The Witcher 3. Like The Wild Hunt, Cyberpunk 2077 is first and foremost an RPG, quest director Mateusz Tomaszkiewicz said recently in an interview with AreaJugones, with "a strong narrative component" leading its FPS combat.
At E3 2019, PC Gamer was among the first to sit down and watch the second gameplay demo that shows off a dizzying variety of Cyberpunk's systems, character progression, and combat. CD Projekt RED promised that E3 2019 would will be the company's "most important" E3 ever, which we can now agree is true as action star Keanu Reeves came out on stage to give the game's release date at the Microsoft press conference.
When is Cyberpunk 2077 coming out? What will its story be like? Will it really look that good? Here's everything we know about Cyberpunk 2077 so far.
When is Cyberpunk 2077 coming out?
The Cyberpunk 2077 release date has been revealed for April 16, 2020.
At E3 this year, Keanu Reeves made an appearance at the end of the new Cyberpunk 2077 trailer as a character and then emerged on stage in person to deliver us the official release date. While our hopes for a 2019 release have been dashed, we now finally know we have less than a year to wait before playing CD Projekt RED's new game.
Cyberpunk 2077
What's the latest Cyberpunk 2077 news?
Cyberpunk 2077 is releasing on April 16, 2020
Keanu Reeves is appearing as Johnny Silverhand in Cyberpunk 2077
Cyberpunk 2077 won't have mod support at launch.
In early March, we learned that one of The Witcher 3's creative directors, Konrad Tomaszkiewicz, has joined the Cyberpunk development team.
Cyberpunk 2077 will not be exclusive to the Epic Games Store (considering GOG exists, this should surprise no one).
Cyberpunk will support Nvidia RTX ray tracing
You can now pre-order Cyberpunk 2077's physical edition and collector's edition
STANDARD PRE ORDER
Cyberpunk 2077 standard preorder
Cyberpunk 2077's standard physical edition pre-orders will come with these physical and digital goodies:
Case with game discs
Reversible cover
World compendium detailing the game's setting and lore
Postcards from Night City
Map of Night City
Stickers
[Digital] Game soundtrack
[Digital] Art booklet
[Digital] Cyberpunk 2020 sourcebook
[Digital] Wallpapers for desktop and mobile
COLLECTOR'S EDITION
Cyberpunk 2077 Collector's Edition
The Collector's Edition will land you all of the same digital rewards plus a lot of extra physical swag:
Collector's Edition box
Reversible Cover
Collectible steelbook
25cm (10in) statue of V (the game's protagonist) in action
Hardcover art book
Metal pin set
Quadra VTech Metal keychain
Annotated copy of A Visitor's Guide to Night City sealed in an NCPD evidence bag
Embroidered patches
World Compendium detailing the game's setting and lore
Postcards from Night City
Map of Night City
Sticker bomb set
Where will the boxed editions of Cyberpunk 2077 be available?
Initially, CD Projekt Red said that PC players would only be able to buy Cyberpunk 2077 digitally in North America. After plenty of commentary from the North American community, CDPR confirms that it will bring the boxed editions (including the wild collector's edition) to the US. No good news for Canada though, yet.
Cyberpunk 2077's E3 2018 gameplay demo
Here it is, the video we were waiting for: 48 minutes of Cyberpunk 2077 gameplay, with some VO explaining what's going on. Further down in this article, you'll find what we learned from viewing a slightly different version of this demo at E3 2018, as well as other details from interviews and news stories spanning the past several years.
Also, check out Andy's impressions of this same demo, played slower with more time to gawk at the surroundings.
Is Cyberpunk 2077 an FPS?
Advertisement
Dare we say that Cyberpunk 2077 is a first-person shooter RPG? We dare. Though cutscenes and driving sometimes switch to third-person, Cyberpunk 2077 involves a lot of first-person shooting. With guns. Lots of guns. It's chaotic and fast-paced, but was less aggressive than, say, Doom. During a firefight in the opening moments of the demo, V, the main character, ducked and peeked around cover to spray a gang of organ scavengers with bullets from her automatic pistol. Like Destiny 2, numbers indicating damage dealt exploded with each landed shot—but enemies didn't feel like bullet sponges. We also love how agile V can be.
www.pcgamer.com