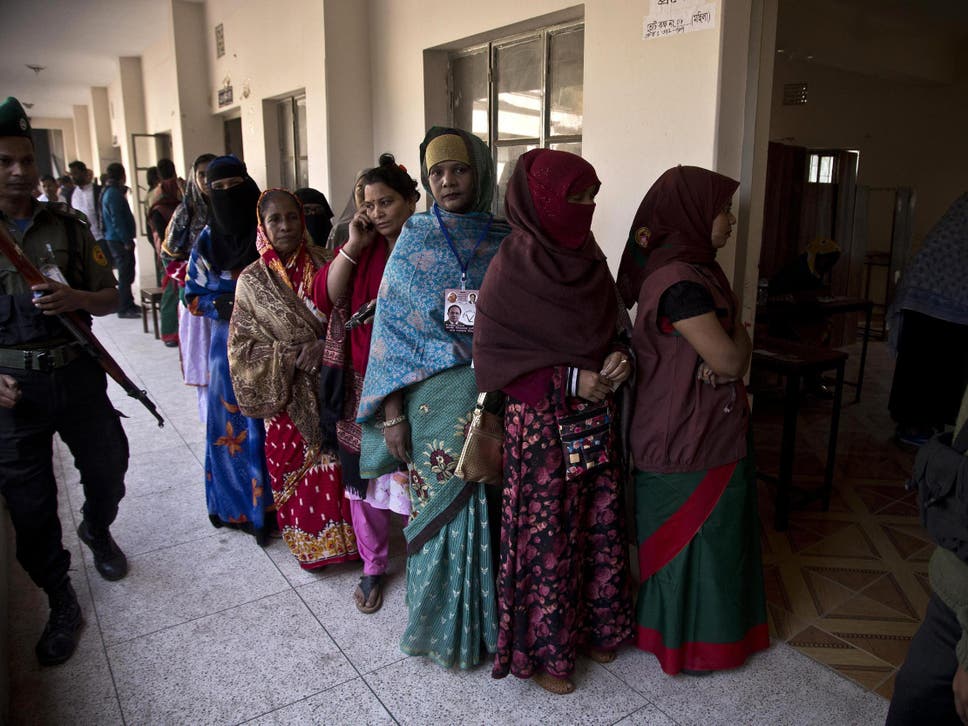 Officials are investigating allegations of vote-rigging in a general election in Bangladesh marred by deadly clashes and claims of a crackdown on the media.
An Election Commission spokesman said: "Allegations are coming from across the country and those are under investigation."
Local reports said 10 people have been killed in violence – after an election campaign rife with allegations the prime minister's opponents had been taken to prison.
High-speed mobile internet services and a leading television channel were shut down for polling day in an apparent attempt to prevent people organising rallies.
The parliamentary elections are being seen as a verdict on what critics call prime minister Sheikh Hasina's increasingly "authoritarian and undemocratic" rule.
Read more
Why today's election in Bangladesh is so important
But Ms Hasina, 71, has promoted her ambitious programme of reforms including power generation and infrastructure projects which have propelled the country's economic growth.
On election day, the country's telecoms regulator ordered mobile operators to close high-speed mobile internet until after polls had shut, and the private Jamuna TV said it had been taken off air with no explanation.
Those killed had reportedly been involved in clashes between rival political groups and police in six districts across Bangladesh.
Dozens of people who said they were opposition supporters complained of intimidation and threats, and being forced to vote in front of ruling party men inside polling booths.
"Some stray incidents have happened. We have asked our officials to deal with them," said KM Nurul Huda, Bangladesh's chief election commissioner, as he cast his vote in Dhaka.
The election campaign was marred by the jailing of what the opposition says were thousands of Ms Hasina's opponents, including six election candidates.
Ms Hasina's main rival is former prime minister Khaleda Zia, leader of the Bangladesh Nationalist Party, whom a court deemed ineligible to run because she is in prison for corruption. Supporters claim the charges were politically motivated.
Ms Zia and Ms Hasina, who is seeking a third consecutive term, have been in and out of power – and prison – for decades.
To stand in for Ms Zia, opposition groups have formed an alliance headed by Kamal Hossain, 82, an Oxford-educated lawyer who helped write the constitution.
source : independent.co.uk