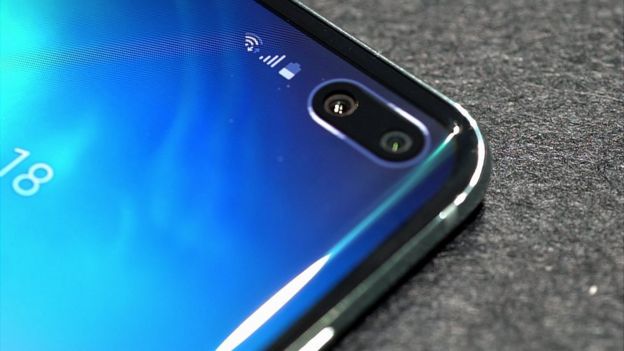 All four versions of the S10 are distinguished from last year's models by embedding the front cameras within their displays.
Image caption
The phone's selfie camera is surrounded by its screen
Samsung refers to this as being the Infinity O design, but it is more commonly referred to as the "hole punch".
The move allows the phones to feature a thinner top bezel without having the kind of "notch" found on many rivals.
It has, however, caused the firm to ditch the eye iris-scanner introduced in the S8.
Samsung says a new ultrasonic fingerprint sensor placed under the screens of the three higher-end phones offers close to the same level of security, and is more convenient to use than a scanner formerly placed on phone backs.
Image caption
A graphic symbol tells users where they need to press to provide a fingerprint
It is based on a technology unveiled by Qualcomm in 2015.
All versions of the handset feature wireless charging and introduce the ability to wirelessly charge other compatible devices in turn.
This mirrors a feature first offered by Huawei's Mate 20.
Samsung demoed the facility at a dual London and San Francisco launch as a way to recharge a new pair of Bluetooth headphones without having to use a separate cable or power mat.
Image caption
The phone can be used to send power to the Galaxy Buds' charging case
Smarter photography
All four devices now feature a 10 megapixel selfie camera and introduce a 16MP "ultra-wide" rear version, which offers a slightly larger field-of-view than our eyes.
The S10+ also has a second selfie camera to help it take depth readings.
Other improvements include:
the ability to detect 10 additional types of scene, so as to automatically adjust the colours and sharpness to suit the subject. These now include shoes, cats and clothing
a "super steady" video mode that combines both digital and optical stabilisation to create the kind of smooth footage that would traditionally have required a gimbal or other add-on stabiliser
an Instagram mode makes it easier to upload images to the social network directly from Samsung's camera app
In addition, the S10+ and S10 5G now offer up to one terabyte of internal storage, which the firm says could appeal to those shooting lots of 4K video or storing many game files.
Image caption
The S10 phones can tell when they are taking photos of a shoe and will adjust the image to suit
"What's positive is that Samsung has moved away from software that nobody wants - like AR emojis and Samsung Cloud - and has gone back to its roots to deliver market-leading hardware," commented Ben Stanton, from market analysis firm Canalys.
"So for the premium part of the market, these are good phones.
"But my concern is that [they are still] not innovative enough to stop people from looking down to lower-price bands and being drawn into mid-range products from Chinese companies that are super-competitive."
https://www.bbc.com